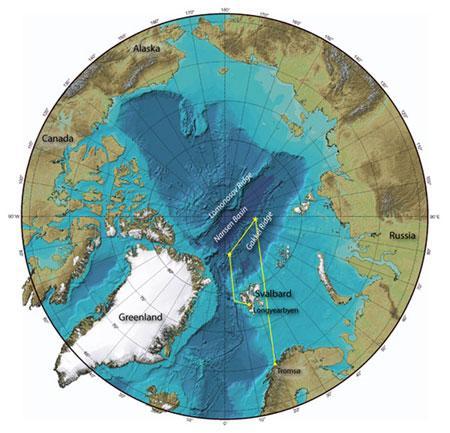 Science(科學雜誌)公布的北極火山爆發照片
ASHDRIFTS
Layers of volcanic ash (samples shown in inset) blanket the Arctic seafloor 4,000 meters down. The ash is evidence of an explosive eruption, long thought impossible at those depths.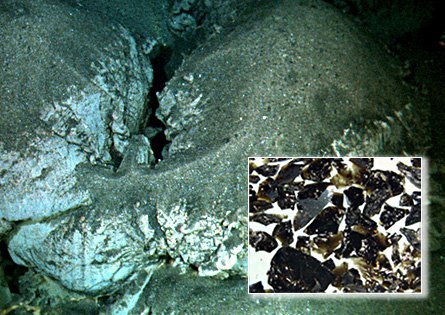 http://www.sciencenews.org/view/generic/id/33630/title/Under_Ice

Under Ice 

June 25th, 2008
Web edition
Expedition yields first evidence of explosive volcanism on Arctic seafloor
A two-week cruise on an icebreaker to the top of the world last summer gave scientists a look at the aftermath of an event once thought impossible: a violent volcanic eruption on the deep-sea floor.
In 1999, a global network of seismic instruments detected the largest swarm of earthquakes ever to occur along the planet's system of mid-ocean ridges, where tectonic plates spread to form new ocean crust. Several aspects of the recorded vibrations suggested that the quakes were generated by volcanic activity, says Robert A. Reves-Sohn, a geophysicist at the Woods Hole Oceanographic Institution in Massachusetts.
However, he notes, many scientists have doubted that explosive volcanism can take place at the 4,000-plus-meter depth where these quakes occurred because the immense pressure of overlying water prevents seawater from flashing into steam, a major driving force for such eruptions.
The source of the quakes was the Gakkel Ridge, a mid-ocean ridge that runs along the bottom of the Arctic Ocean. Sonar scans at a stretch of the ridge about 500 kilometers from the North Pole revealed several distinctive volcanic features, says Reves-Sohn. The largest of these undersea features, which usually have flat tops scarred with prominent central craters, are about 2 kilometers across and a few hundred meters tall.