澳洲國防部在2009年11月12日表示,偵爆犬Sabi在上週被一名美軍發現在阿富汗Oruzgan一處巡邏基地徘徊。這隻黑色拉布拉多犬已經是第二次到阿富汗執勤,2008年9月時,游擊隊伏擊澳洲、美國和阿富汗聯軍車隊,當時9名澳洲軍人受傷,後來Sabi也因此失蹤。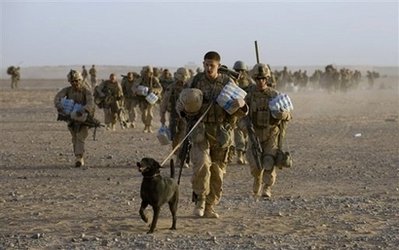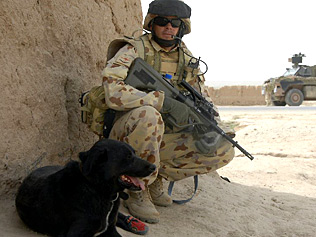 http://www.news.com.au/story/0,27574,26339538-401,00.html
Sabi the Army wonder dog found safe
SHE survived almost 14 months in the unforgiving Afghan desert after being declared missing in action during a bloody battle with the Taliban.
Sabi, an Australian Army bomb detection dog, was reported MIA after she fled from the same battle in which SAS Trooper Mark Donaldson won his Victoria Cross for risking his life to save an Afghan interpreter in September last year.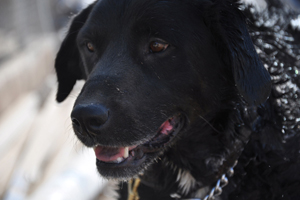 Nine soldiers, including Sabi's handler were wounded in the ferocious fire-fight that ensured after the Australian, US and Afghan army convoy was ambushed by the enemy.

The black labrador fled from the chaos and was feared dead - until a US soldier found her roaming with an Afghan man in Oruzgan Province last week, The Townsville Bulletin reported.

Speaking from Buckingham Palace after meeting the Queen, Trooper Donaldson said Sabi's miraculous survival story closed a chapter of their shared history.
''She's the last piece of the puzzle,'' Tpr Donaldson said.

''Having Sabi back gives some closure for the handler and the rest of us that served with her in 2008.

The Australian Special Operations Task Group had made repeated attempts to discover the dog's fate and put the call out to their Coalition buddies.

The US soldier who recovered Sabi at the patrol base in north-east Oruzgan said it was immediately obvious that the labrador was no ordinary mutt.

''I took the dog and gave it some commands it understood,'' he said.

After thanking the man, who may hold the secret behind Sabi's amazing survival, plans were put in place to fly the miracle mutt back to the Aussies.

One of Sabi's original trainers met her at Tarin Kowt and a simple game of catch instantly confirmed it was his dog.
Australian School of Military Engineering Chief Trainer Sergeant Damian Dunne said the soldiers had never given up on Sabi.

''You can never say you have given up hope until you know what actually happened,'' Sgt Dunne said.

''She's a tough little bugger, absolutely as tough as nails.

''For a dog to be missing for so long to be found ... everyone is stoked.''
Sabi, like her fellow explosive ordinance detection dogs, was sourced from the pound.


The dogs are trained to sniff out improvised explosive devices - and Sgt Dunne said there was no doubt that they saved lives.

Sabi has spent more time in Afghanistan than many Australian soldiers.

She was first deployed to the country in 2007 and was nearing the end of her second deployment when she went missing last year.

Sabi appeared to be in good health when she was found, however she was flown to Kandahar to undergo a full vet check.

She is currently in quarantine, awaiting her test results, before a decision can be made about her anticipated return to Australia.
Read more on this story at The Townsville Bulletin.