China navy build up says Rudd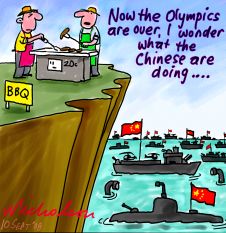 (Copyright: Nicholson (http://www.nicholsoncartoons.com.au))

PM flags major naval build-up in response to Asian arms race

Matthew Franklin, Chief political correspondent | September 10, 2008
KEVIN Rudd has foreshadowed a dramatic expansion of the Royal Australian Navy to counter a military build-up being bankrolled by Asia's growing economic prosperity.

The Prime Minister last night warned that nations across Asia were modernising their military forces, particularly with more powerful jet fighters and submarines, and that Australia must respond with its own upgrade.

In a blunt warning to the national congress of the Returned and Services League, Mr Rudd also said he wanted to use Australia's status as "a middle power" to promote comprehensive diplomatic engagement within the region and through the UN as a buffer against regional rivalries.
"We see a substantial arms build-up over time," Mr Rudd said in Townsville. "We need to be aware of the changes taking place. And we must make sure that we have the right mix of capabilities to deal with any contingencies that might arise in the future."
Mr Rudd did not name any particular nation as posing a specific military threat. But Australian and US intelligence agencies are known to be wary of the growing economic might of China and India.
And they have lately warned that China is building an underground naval base at Sanya, on Hainan Island, off its southern coast, with berths for up to 20 advanced nuclear submarines.
Earlier this year, the Chinese navy had at least 55 submarines, eight of which were nuclear-powered. Many were equipped with Yingji-8 anti-ship cruise missiles that can be launched from under water. It is believed there are a further 13 nuclear submarines in the planning stages. China announced in March it would lift its military budget this year by a record 19.4per cent to $63 billion, but Washington believes its actual spending is much higher.
Since taking power last November, Mr Rudd's Government guaranteed an annual 3 per cent real growth rate in defence spending until 2017-18 and has quarantined the department from budget cuts. He has been preparing a Defence white paper to be completed within months, as well as a national security statement expected to be delivered within weeks.
And the Prime Minister has pursued frenetic regional diplomacy, defying Opposition criticism to visit China, Japan, South Korea, Indonesia, Malaysia and Singapore.
Last night, Mr Rudd told the RSL that the Asia-Pacific region was so dynamic and included so many "flashpoints" that Australia could not bank on never-ending regional co-operation.
"The Asia-Pacific region will become more prosperous and its population will continue to grow," he said. "Militarily, however, as it has already become economically and politically, the Asia-Pacific will become a much more contested region."
By 2050, Australia's population would reach 35 million, while China's would peak at 1.5 billion by 2020 and India's would hit 1.8billion by the middle of the century.
"The demographic changes in our region will mean that by 2020, when we look to our north, we will see a very different region to the one we see now - one where population, food, water and energy resources pressures will be great," he said.
These pressures would add to those around pre-existing political fault lines, such as territorial disputes.
With North and South Korea still technically at war and China and Taiwan unable to resolve basic questions of sovereignty, increasing military spending was an issue of concern.
"As a general observation, the modernisation of Asian military forces is being characterised by significant improvements in air combat capability, and naval forces, including greater numbers and more advanced submarines."
Mr Rudd said Australia must therefore look to its own military resources and maintain a flexible land force able to contribute to "high-end military engagements".
"We need an advanced naval capability that can protect our sea lanes of communication and support our land forces as they deploy," he said. "And we need an air force that can fill support and combat roles and can deter, defeat and provide assistance to land and maritime forces."
Mr Rudd said the power of the US would decline relative to that of other nations in coming decades but that it would remain the world's only superpower until the middle of the century and maintain its "global leadership role".
He also used his speech to bring context to his foreign policy moves since taking office, stressing that his proposal for the creation of an Asian Economic Community with a role on security, not just trade, was tied to his determination to use Australia's status as a middle power to encourage regional security.
Likewise, he said, his proposed creation of an International Commission on Nuclear Non-Proliferation and Disarmament was part of an attempt to respond to the spread of nuclear weapons to more and more nations.
"Australia has the credibility and the drive to lead initiatives like this, in part because they are in our interest, but also because they make a positive contribution to the international community," Mr Rudd said. "But diplomacy must always be reinforced by a credible national defence strategy.
"We need to make sure that we have an Australian Defence Force that can answer the call if it is needed."
Earlier yesterday, Brendan Nelson told the RSL there should be a formal national apology to Vietnam veterans, acknowledging they were ill-treated when they returned to Australia in the 1960s and 1970s.
The Opposition Leader said Vietnam veterans deserved an apology for being subject to abuse and mistreatment on their return from service.
Within hours, the proposal was rejected by the Vietnam Veterans Association.
Vietnam Veterans Association national president Ron Coxon told The Australian last night Vietnam veterans felt they had already been honoured by the 1987 welcome home march, the construction of a national memorial in 1992 and the recognition of major battles such as Long Tan.
"I don't think he would achieve anything by doing that," Mr Coxon said of Dr Nelson's proposal. "They would be better looking after veterans in the claims process rather than apologising for it."

http://www.theaustralian.news.com.au/story/0,25197,24322664-31477,00.html