其實報紙的標題是「囚犯的特別待遇激怒監獄警衛」
澳洲昆士蘭州的監獄生活蠻優渥的,昆士蘭的重刑囚犯每天看最新的DVD,玩PS遊戲,聽音樂,吃薯條和巧克力。
囚犯每週可以看七片免費的DVD,使用筆記型電腦,吃垃圾食物。每週除了有25~40元澳幣的收入外,還有20元的失業零用金,而且還可以有親戚捐到信託基金的50元可以用。
圖:男性重刑犯的監獄,輕行犯當然就更舒服了。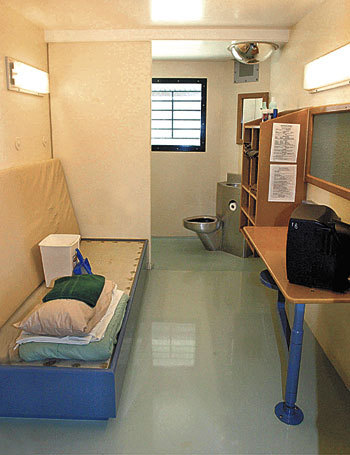 (ON the inside ... an austere cell, which includes a TV set and security monitor, in Wacol high-security men's prison.)
Courier Mail
Perks for inmates anger prison guards
Robyn Ironside
March 28, 2008 11:00pm
QUEENSLAND'S worst criminals spend their days watching latest-release DVDs, playing PlayStation games, listening to CDs and eating chocolate and chips.
The perks enjoyed by inmates, who include murderers, rapists and pedophiles, have angered prison guards.
Prisoners get up to seven new DVDs a week streamed free of charge over an internal channel on TVs in their cells.
Other perks such as CDs, PlayStation games, lap-top computers and junk food must be paid for by the prisoners themselves – either through prison earnings of between $25 and $40 a week, an unemployment allowance of $20 a week, or a trust fund to which relatives can contribute up to $50 a week.
President of the Queensland Prison Officers Association Brian Newman yesterday said the Corrective Services department was making it "way too easy" for prisoners.
"Our members see much more than the public could imagine in terms of the benefits afforded to prisoners without having to earn them," Mr Newman said.
But Debbie Kilroy, from prisoners' support group Sisters Inside, said people were sent to jail as punishment, not to be punished when they got there.
Their punishment is being in prison," Ms Kilroy said. "It's always been a very blurry line for some prison officers how they are treated once they're in there."
Prisoners are not allowed to watch R-rated films, but MA (mature adults only) classified titles such as 30 Days of Night, Alpha
Dog and Black Sheep are among those provided to prisons by Amalgamated Movies, a company licensed to supply films to correctional facilities and other closed institutions.
A Townsville-based prison officer said most people would be surprised to learn inmates were able to access such luxuries.
"They can refuse to attend courses that address their offending behaviour, refuse to attend court if they don't want to see the
victims, and just sleep in watching videos and eating junk food instead," the officer said.
"Added to this they get sport every day, guitar lessons and art and craft."
Queensland Corrective Services confirmed prisoners were able to purchase a range of items such as sports shoes, chips and chocolates as "privileges".
"Depending on a prisoner's behaviour, their access to these items can be removed by Corrective Services staff," a spokesman said.
QCS also confirmed DVDs were streamed free of charge to televisions hired by the prisoners for $2 a week.
"All prisoners in Queensland correctional centres are locked down for 12 hours each day, from 7pm to 7am. Because of this extensive lock-down period, televisions are made available to assist in occupying prisoners during this time,in turn contributing to the safety and security of the centre," the spokesman said.
But Catholic Prison Ministry co-ordinator David Martin said it was not fair to suggest prisoners spent their days lounging in their cells, watching DVDs and scoffing junk food.
"There's a lot of disillusionment, there's boredom, there's isolation. It's a tedious life with no work and it can only lead to unrest. It's not conducive to them being rehabilitated," Mr Martin said.
He said prisoners could earn money for work in jail, and were entitled to spend it in fortnightly "buy-ups".
"There has been no increase in the remuneration for prisoners but we've seen items like hair brushes increase from $2.59 to $12.51 in 12 months," he said.
Prisoners' Legal Service co-ordinator Matilda Alexander said there was no real benefit to anyone for a prisoner to be left staring at the walls of a jail cell.
"What's the advantage of having someone sit in a cell, who wants a job but there's not enough jobs to go around, who wants to do a program but there's not enough places – why begrudge them some form of entertainment?" she said.
© Queensland Newspapers. All times AEST (GMT + 10).